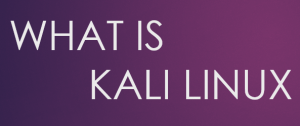 What is Kali Linux?
Will see what is Kali Linux in this post. Nowadays Linux is everywhere in use in the form of Smartphones, Cars, Supercomputers, Robots and Home appliances, etc…
This belongs to Debian distribution and its developed towards Penetration testing, Security auditing, Forensics and reverse engineering.
It's funded, developed and maintained by Offensive Security(leading information security company).
Features of Kali:
Free Operating system
Open source Git tree
More than 600 penetration tools
FHS Compliant
Wide range wireless support
Developed in a secure environment
Custom kernel, patched for injection
Customizable
GPG Signed packages and repositories
ARMEL and ARMHF Support
Multi-language support
Reference:  Kali Docs