Will see Upgrading NIOS Software in this post.

Before upgrading do the pre-implementation things for safer side mentioned below.

Check the current version of Infoblox execute below command in web console

admin> show version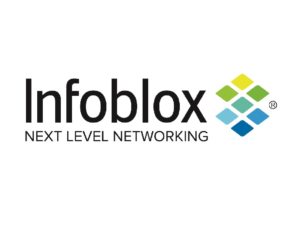 Check the license using below command in web console
admin> show license
Note: If the NIOS holding temp license, it's not advisable to upgrade the Version. It will lead to lose the GUI
Now we must take the Infoblox appliance database backup. Here we are mentioning NIOS configuration and discovery files as database. If anything goes wrong, we can use this backup to restore it to previous stat of the NIOS.
Grid -> Grid Manager -> Backup -> Manual Backup
-> My Computer -> Backup
Download the upgrade binaries (Bin/ Bin2) file from Infoblox support portal and do remember the path where you saved the file
Step 1:
Click on download tab and you will get next screen. From there select "NIOS Archives (.BIN/2 files)"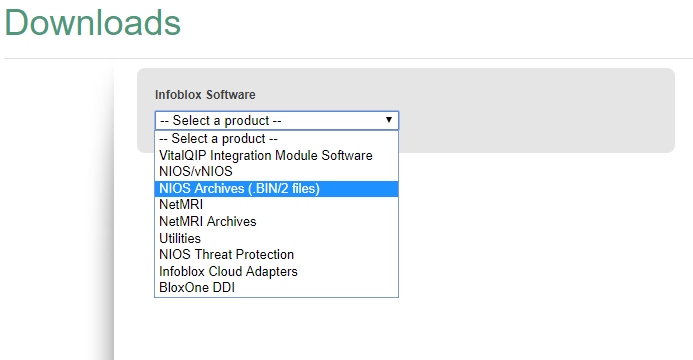 Step 2:
Once selected "NIOS Archives (.BIN/2 files)" from the dropdown list, next click on "Available for download" button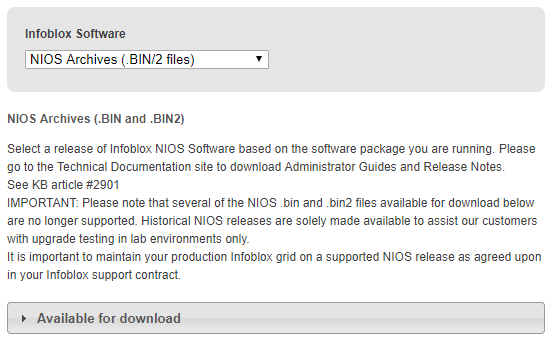 Step 3:
On next step you will get list of available download and from there click the appropriate version BIN or BIN2 file to download the upgrade. We can avoid ".DDI.OVA FILES" and "CHECKSUM FILES", because it not required for the upgrade process.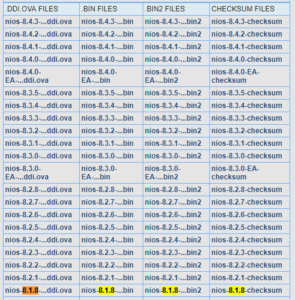 Recommended to download the .BIN Files for the appropriate version.
Download and keep it in a host which in same network to upload in Grid Master GUI for upgrade and do remember the path.
Upgrading NIOS Software:
Upload the binaries to Infoblox Grid Master (Grid -> Upgrade -> Upload)
Once upload completed, Distribute button will be enabled. Then click on Distribute to distribute the uploaded binaries to remote nodes (Grid -> Upgrade -> Distribute)
Once distribution completed, Test button will be enabled. To verify the integrity of upgrade files click Test (Grid -> Upgrade -> Test)
Finally click on upgrade to apply the update (Grid -> Upgrade -> Upgrade)
Post Upgrade of NIOS please do the below checks:
1. Revert all nodes to the previous version (Grid -> Upgrade -> Revert -> Grid)
Grid Master will display warning message. Read the warning carefully and then click Yes to proceed further.
In absence of Grid Master GUI, we can restore the backup to set NIOS Configuration to the previous stat.
Reference: Infoblox document